"Feminicides are the ultimate act of violence. A violence that has its origins in routine sexism. Even the non-negotiable image we see of Berlusconi on television is another kind of subtle violence."
Barbara Bachmann and Franziska Gilli | Authors of the book "Whore or Saint: Being a Woman in Italy"
1/10
2/10
3/10
"I don't want a man to save me, but one who will walk by my side and let me be what I want to be."
Fouzia Wamaitha Kinyanjui | Activist and Feminist
4/10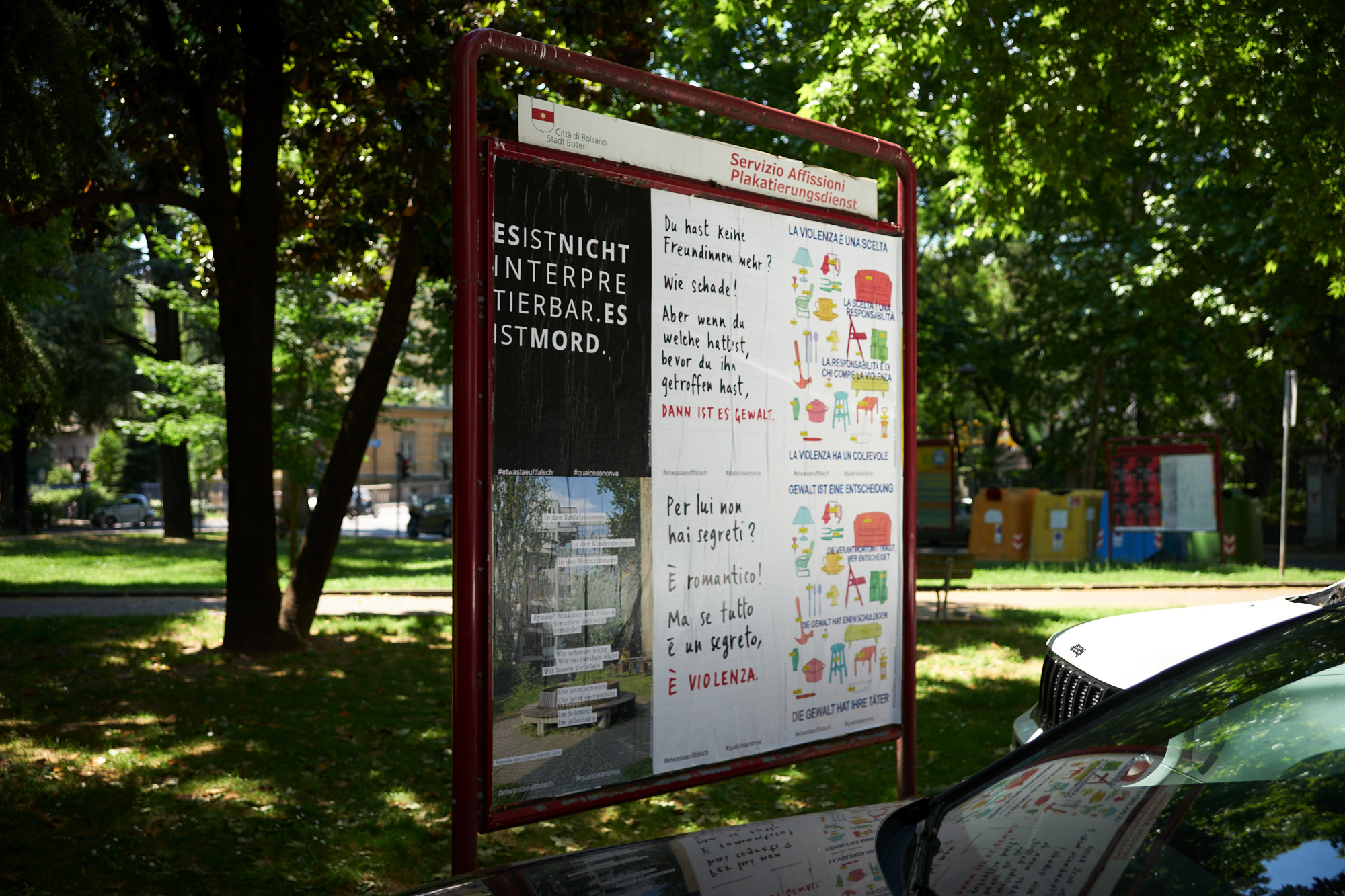 5/10
"Problematic situations and demands on coping are transferred from society to individuals, who are then often left to themselves (and expected) to cope with what society imposes on them. And violence continues to be a coping mechanism for men."
Armin Bernhard | Forum Prävention South Tyrol
6/10
7/10
"When women, who have internalized patriarchy and by doing so reproduce it (as unfortunately most of us have), come to power, it is only a partial solution. The goal should be to break down the system and rebuild one that embraces and accepts our individual uniqueness."
Fouzia Wamaitha Kinyanjui | Activist and Feminist
8/10
9/10
"Women often find it difficult to talk about the violence they experience because they know very well that it will be trivialized, and that they will be ridiculed or even blamed. The danger of being ostracized is existential, so many women have very good reasons to remain silent."
Monika Hauser | Founder of Medica Mondiale
10/10
The campaign #somethingiswrong addresses violent crimes against women. In the form of artistic and literary posters, it operates in public spaces with the aim of initiating conversations and creating awareness of the topic.
The first edition in South Tyrol 2021 was initiated by Lungomare in collaboration with Kunst Meran Merano Arte and the Summer School South Tyrol. The posters have since been shown internationally through various collaborations and translated into several languages. For the second edition in North and East Tyrol 2022, artists worked in close cooperation with associations active in the field of victim protection and counselling for women and men. The resulting motifs will be on display in public spaces in Tyrol from October 2022.
1/6
2/6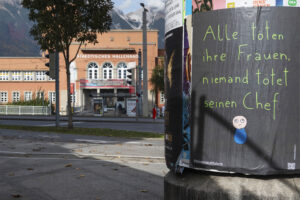 3/6
4/6
5/6
6/6
Share the campaign in your city or region!
The campaign will be promoted by citizens, associations, and public bodies in the digital and public space. The posters are available for free download and printing on this website.
Share the posters on social media and in the public sphere!